Bulletin Ekonomika stlačeného vzduchu 2021
Hlavní téma bulletinu Ekonomika stlačeného vzduchu 2021 je věnováno kontejnerovým kompresorovým stanicím. Čím dál více výrobních podniků se o kontejnerové řešení zajímá, a to nejen z pohledu úspory místa, ale například i vzhledem k modularitě řešení. Na toto téma navazuje článek o výrobě modulárního kontejnerového řešení na výrobu a následnou úpravu stlačeného vzduchu pro práce v Jaderné elektrárně Dukovany, kdy součástí kontejnerové úpravy vzduchu bylo katalytické čištění. Dalším výrazným tématem tohoto čísla je problematika vlhkosti ve stlačeném vzduchu a metody jeho vysoušení. A jako v každém čísle ani v tomto nechybí vybrané příklady z jednotlivých analýz, které jsme v roce 2021 realizovali.
Určitě si také všimnete, že bulletin prošel úpravou vzhledu. To se týká nejen titulní stránky, ale i celého rozvržení obsahu. Barevně budou jednotlivá vydání vycházet z barev na titulní fotografii, což zajistí, že budou jednotlivé ročníky od sebe lépe rozeznatelné.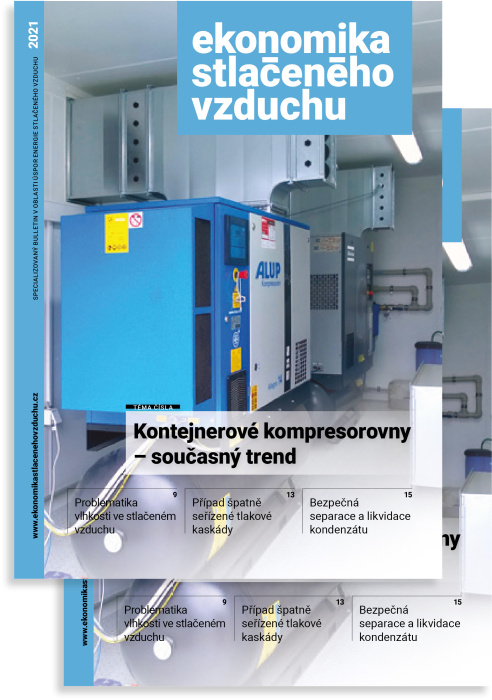 Naše webové stránky ukládají soubory cookies, které pomáhají ke správné funkci stránek a analýze návštěvnosti. Kliknutím na "Přijmout vše" souhlasíte s ukládáním všech souborů cookies. Souhlas můžete kdykoliv upravit prostřednictvím nastavení.
×
Nastavení souborů cookies
Pokud navštívíte náš web, do vašeho zařízení ukládáme a následně z něj čteme malé soubory cookies. Cookie je malý soubor písmen a čísel, který ukládáme ve vašem internetovém prohlížeči nebo pevném disku vašeho počítače. Některé cookies jsou nezbytné pro správné fungování našich stránek, jiné budou uloženy pouze s vaším souhlasem. Svůj souhlas s ukládáním cookies můžete kdykoliv upravit.